Open Menu
Project Gaia
---
The former war of elments
We're nearly done building a huge world for this game. The world is called Lygea and you can check it out here (English translations still pending).
This includes writing the most important Characters for the game's story, their character arcs, and the game story's most important plot points. This won't be a fleshed out game story, yet, but should be enough to get us started.
I'm making a design for the most important features of the game, including a battle system, cutscenes, player interaction, mini games, art style, and a lot more.
Working towards a game demo version, that should showcase all of the game's most important features, two or three side quests, and maybe a minigame or two.
What is Project Gaia
---
Project Gaia is a massive, passionate mammoth of a project that consumes the largest part of my creative energy, and it's the one thing I focus almost all of my spare time on. Its goal in the end will be the development of an own videogame. However, the project is not solemnly concerned with the development of that game. We also want to create a corresponding fantasy world, which can be used that the game and different kinds of other media, e.g. comics, books or Pen&Paper adventures. The game's story will be embedded into this world, and it's very important to me that this story is interesting, well written, logical, and consistent.
The core team of Project Gaia consists of my brother in spirit Abe and myself. While Abe, for the most part, is taking care of the visual aspects of the project, the textual and logical aspecst arte taken care of by me. Of course. We're strongly influencing each other while doing that, of course. On this page I want to document our progress.
Legends of System Gaia
---
Project Gaia is losely based on one of our former projects known as Legends of System Gaia - War of the elements (LoSG), which we released almost a decade ago. LoSG is a JRPG made with the RPG Maker 2003 and was released on the web in 2011.
Download LoSG
---
You can download the old Legends of System Gaia Game with the link below but be advised: The game is old and was made with old technology! It's german only and unfortunately our beta-tested version got lost and we're stuck with the version that still has some game breaking bugs in it (Save often and on different slots!) Also a real balancing is missing so I strongly recommend following the cheating instructions included in the download! I hope you'll be able to enjoy the story and minigames then, at least...
Allright, without further ado: Download Legends of System Gaia!
Legends of System Gaia impressions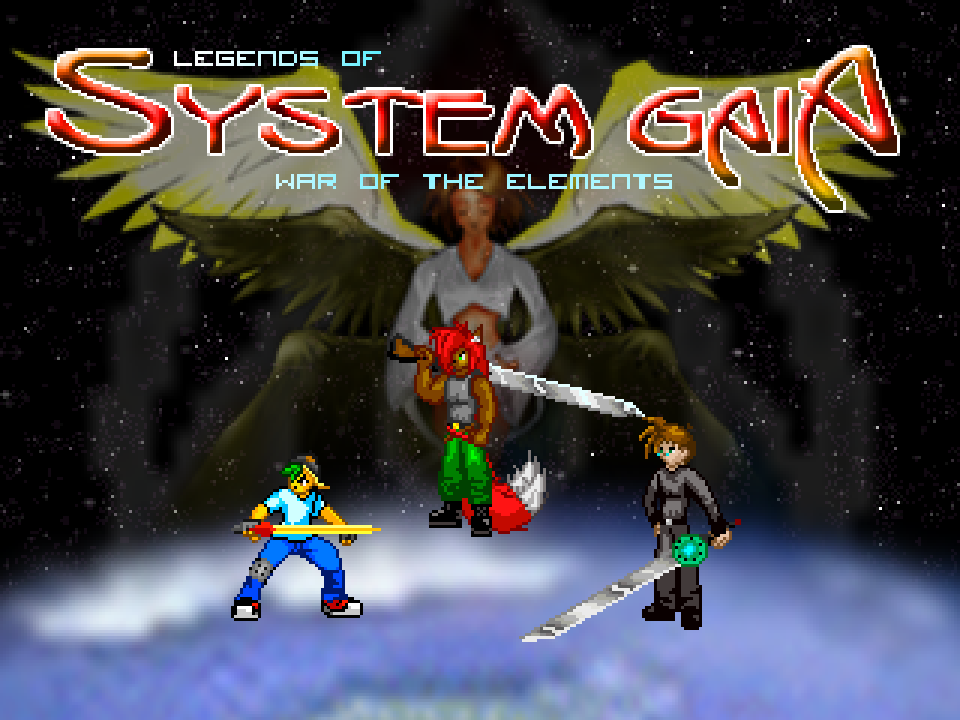 Open Menu